Our Services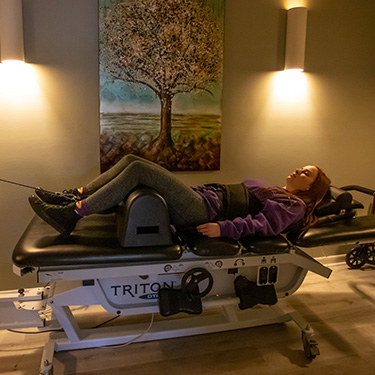 In addition to chiropractic care, The Callard Clinic also offers several other services that greatly benefit our patients, including Spinal Decompression, Massage Therapy, Nutrition Response Testing, Peripheral Neuropathy Treatments and Custom Orthotics.
Massage Therapy
Our massage therapist offers a deep-tissue therapeutic massage to patients of all ages. Each massage is specific to the individual, allowing for care to focus on your exact needs. Massage therapy can benefit a variety of people, including those who do not sleep well as well as those who experience frequent stress. Other reasons one may choose therapeutic massage are unwanted knots, restricted range of motion, and muscle tightness.
Spinal Decompression
If you suffer from pain, numbness, or tingling down your arms or legs, spinal decompression could be for you. This option can also improve neck and low back pain from herniated discs, bulging discs, and spinal stenosis. Spinal decompression is a minimally-invasive technique that serves as a safe alternative to dangerous surgeries and spinal shots.
Nutrition Response Testing
By testing specific reflexes, we are able to help you locate nutritional deficiencies or toxins, such as metal, bacteria, viruses, and funguses within the body. Using Nutrition Response Testing (NRT), which takes about 20 minutes from start to finish, we are able to create a plan using specific supplements that will remove unwelcome toxins and increase nutritional input. Since no two people are alike, therapy protocols will differ per individual persons, but maintenance care and lifestyle adjustment assistance are guaranteed to all.
Orthotics
If you need custom orthotics, we can help. After a thorough scan of your feet, our computerized system will send your foot measurements to Foot Levelers. Foot Levelers will then make a custom orthotic just for you based on the scan they receive. Say goodbye to pain and hello to increased comfort in just one week!
Find the Perfect Modality for You
Let us help your body achieve a natural state of balance and wellness. To learn more about chiropractic care, orthotics, nutritional testing, massage or spinal decompression, contact us today.
---
The Callard Clinic Services | (810) 629-5566